Rowing's faithful followers and silent partners
A pioneer in women's rowing at Western, Carolyn Clark's support of the program is a lifelong allegiance.
By Cassie Dowse

When Carolyn Clark, BA'74, and her husband Greig, HBA'74, donated a boat to Western's rowing program, they named the vessel "Silent Partner." Though Carolyn has never desired wide recognition for the couple's ongoing contributions to the program, her involvement at the sidelines speaks volumes to the lifelong connection that Western rowing has provided her in her voyage from student to donor.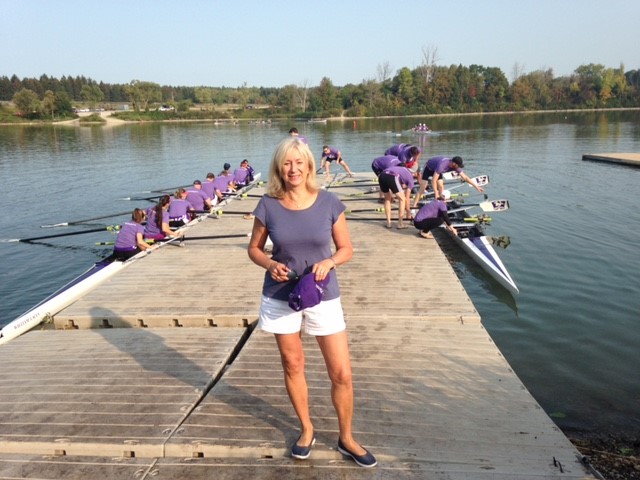 "The name 'Silent Partner' speaks to the support that athletes are surrounded by," says Carolyn. "The boat partners with the athlete on the water, but it's also about those behind the scenes – the parents, volunteers and donors – who help make that athlete successful."

Carolyn is humble about the place that she's carved out in the rowing community as an alum and donor. Her time with the women's team lasted only a year when she attended Western's Physical Education program in 1971, but her journey with the sport has grown into a profound and lifelong connection.

"During my time with the team, it wasn't about training, competition or pushing myself athletically," says Carolyn. "What I love about the rowing community is that you don't have to have been a somebody to be involved. Whether you were a high achiever in the sport or not, you receive the warmest of welcomes."

Attending high school in St. Catharines, Carolyn has fond memories of watching the local schoolboy regatta. Arriving at Western, she learned that there was a women's rowing club and eagerly joined, but because the team didn't have varsity status it was challenging to come together.

"We couldn't go to practices or competitions on the bus provided by Western so we'd have to arrange rides with members of the men's team to get to Fanshawe Lake and other cities," she recalls. "Resources were also a challenge. We used heavy wooden boats that the men's teams were no longer using."

Carolyn and her teammates weren't focused on winning titles – they simply wanted to spend time on the water together. They began advocating for the team to achieve varsity status to make it easier to organize practices and competitions between other schools. Unbeknownst to them at the time, they became pioneers in Western's women's rowing program, taking that first step towards a legacy of athletic excellence by achieving varsity status that year. This modest beginning was a special time in Carolyn's life, and she treasures the memories made with the team.

"I love the act of rowing and the synchronicity; the fact that when you all do it together you get results," she says. "There's no team sport quite like it. Soon after I left, the women's program really took off. Benefitting from disciplined training and great coaching, they began competing at regattas and winning titles."

After graduating from Western, Carolyn landed her dream job as a physical education teacher with the Peel District School Board – a position she happily held for 22 years. She often rowed leisurely at her family's cottage, finding serenity on Muskoka's tranquil lakes.

Carolyn hadn't planned to keep in close contact with the rowing program at Western. When she attended Homecoming in the late 1980s, Carolyn was reunited with former teammates and got acquainted with the sport's growing community, describing the environment as "warm and welcoming."
When Carolyn married Greig, the couple immersed themselves in Western rowing's faithful following, impressed with the program's coaches and students. As they discussed their commitments to give back to the school Carolyn drew inspiration from her time at Western, deeply aware of the importance of donation to student success.

"I remember applying for a bursary towards the end my fourth year at Western," she says. "It was only fifty dollars, but I was broke by then. It may not seem like a lot now, but I needed it to finish the year. I remember what it feels like to struggle financially, and that's why supporting students is so important to me."

Carolyn contributed to the Adopt A Mustang program and wanted to ensure her donation would go to a female athlete. Later donating boats and equipment to the rowing program and signing up for the Coaching Matching fund, Carolyn and Greig's fervent support of the team over the years is greatly appreciated by Dan Bechard, head coach.

"Carolyn and Greig are always in the background, making the future better so student-athletes can achieve their dreams," says Dan. "From Carolyn's role with the first varsity women's program, to supporting program leadership, she is a true difference maker for Western rowing."

Among Carolyn's favourite memories as an alum was a Homecoming race she took part in with some national and world champion athletes, including two Olympians. Taking a seat towards the back of the boat, the power of those athletes took her completely by surprise as they shot through the water. "I don't think I've ever been in a boat that went that fast before!" she laughs. "It was incredible. I told myself to just focus and stay in the boat. It sure was fun!"

On board to help student-athletes achieve their dreams, Carolyn and Greig are in it for the long haul, grateful for the tight-knit faithful community that means so much to them.
This story is featured in Western's 2023 Annual Impact publication.