A dynamic duo
Thanks to donors, Robarts continues to push the boundaries of research.
By Cassie Dowse

Donors who support Robarts Research Institute at Western University help fund initiatives that make a lasting difference in the lives of patients. Robarts is a leader in finding solutions for debilitating diseases and accelerating medical discovery, and is home to some of the best researchers.
A recent addition to Robarts' impressive clinician-scientist roster, Drs. Mark Chandy and Aleksandra Leligdowicz are a husband and wife team who are merging their research interests into a single lab.
Dr. Chandy is a cardiovascular physician who has made significant contributions to understanding heart disease and diabetes. Dr. Leligdowicz is a critical care physician and has focused her career on understanding infectious diseases like sepsis and COVID-19 to improve patient therapies and outcomes. The doctors have been married for six years and have three children together, and though their personal lives are intertwined, their fields of study have always been separate.
Now, after coming to Robarts, their dream of fusing their individual research together is coming to life.
Finding a common thread
Dr. Chandy intimately understands the need for cardiovascular disease research. "Having a family history of cardiovascular disease piqued my interest in this specialization at a young age and motivated me to find answers," he explains.
For Dr. Leligdowicz, interactions with the families of critically ill patients fuels her desire to develop innovative treatment options for sepsis, which are currently very limited. Septic shock is a life-threatening condition that happens when a patient's blood pressure drops to a dangerously low level after a severe infection and results in the failure of multiple organs, such as the heart, lungs, and brain. Treating septic shock requires a specialized team in the intensive care unit.
"It's extremely difficult to explain to a patient's family when their loved one is severely ill that although some therapies may be beneficial to treat septic shock, we don't know how to precisely offer treatments to the patients who will respond best. The research in this area is lacking," says Dr. Leligdowicz.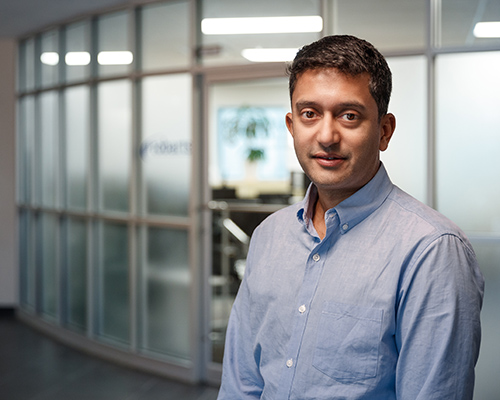 Dr. Mark Chandy's research will examine how major environmental risk factors impact cardiovascular health.
Cellular research to the rescue
The aim of translational research is to move discoveries into clinical practice quickly and effectively. For Drs. Chandy and Leligdowicz their area of research is focused on better understanding underlying biological reasons for complex syndromes, such as heart disease and sepsis, and discovering targeted therapies using novel tools such as regenerative medicine (the process of regenerating human cells to restore or improve function).
While it may be difficult to comprehend how their two distinct patient areas of focus can benefit from their shared research, it comes down to induced pluripotent stem cells (iPSCs).
iPSCs have the potential to reveal how to target novel and existing therapies for patients in septic shock. Investigation of iPSCs can also improve our understanding of how cardiovascular health is impacted by environmental risk factors such as e-cigarettes, marijuana, air pollution and opioid use.
iPSCs can be used to generate endothelial cells (that line the inside of the heart) and the blood vessels that become injured during severe sepsis. Drs. Chandy and Leligdowicz plan to generate iPSCs by taking donated blood samples from consenting septic patients and isolating blood cells from those samples. The blood cells will go through a process called de-differentiation to generate iPSCs, which will be used to establish endothelial cell lines to test responses to novel and existing therapies specific to the patient from whom the stem cells were generated.
Their hope is to discern some of the genetic factors that contribute to endothelial cell injury during severe sepsis and reveal how therapeutic options can be tailored to fit different patients and ultimately create better outcomes in care.
Moving forward together
Drs. Chandy and Leligdowicz could feel palpable excitement when they first arrived at Robarts from sunny California in 2021. "Everybody at Robarts is very collaborative and enthusiastic about our research," says Dr. Leligdowicz. "As a scientist, there is nothing more thrilling than being in an environment where people are interested in your work, and knowing that your research has the potential to improve lives."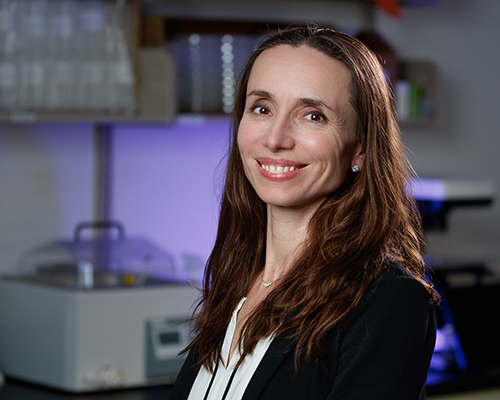 Dr. Aleksandra Leligdowicz's research aims to develop personalized treatment options and vastly improve outcomes for critically ill sepsis patients.
Setting up their shared laboratory space at Robarts will see the couple officially working together for the first time. It's very exciting for the sought-after pair, who understands research of this magnitude is not possible without the support of a strong community committed to discovery.
"We are ecstatic to have recruited outstanding young scientists like Drs. Chandy and Leligdowicz to Robarts to establish their translational research programs," says Rob Bartha, Vice-Dean, Research and Innovation, at Schulich School of Medicine. "Finding new treatments for devastating diseases starts with research. It simply wouldn't be possible without donor support."
Looking forward to their almost completed space at Robarts, Drs. Mark Chandy and Aleksandra Leligdowicz believe that incorporating iPSCs in research disease modeling will result in improved understanding and management of cardiovascular disease and severe infection that will greatly benefit patients and families around the world.
This story is featured in Western's 2023 Annual Impact publication.