Together, every step of the way
From sleeping on bookshelves to contributing as a major donor, Larry Schecter has a vision.
By Amanda Jackman

Some memories go so deep they define who we are. For Larry Schecter, a business executive on an 'indefinite sabbatical', those memories happened at Western.

Larry was enrolled in computer science when mullets and feathered hair were all the rage. "It was the best time of my life. I will never forget the connections we forged."

Larry met his best friends at university and the group has remained extremely close. To this day they continue to meet socially, or online, sharing their lives together, just as they did when they were students.

In 2022, Larry returned to Western for the first time in several decades. He couldn't believe how much the campus had progressed, yet it still felt like home. "When I saw the tower of Middlesex College (where the Computer Sciences Program still resides), it brought everything back," he smiles.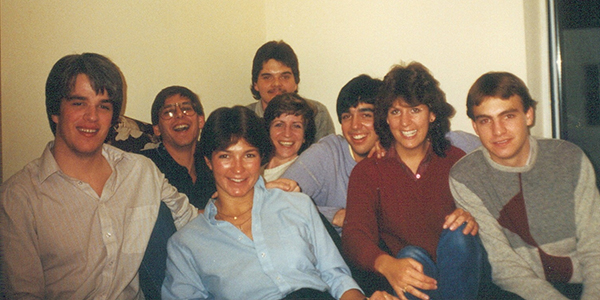 Larry fondly remembers staying up late with his cronies, finishing projects at 3am, sleeping on bookshelves for a precious few hours before waking up for class. "We spent so much time together. We had highs and lows. We celebrated wins together. I wouldn't trade it for anything!"

His homecoming back to Western was a long time coming, but Larry has been quite busy with his career, volunteering and travelling. It was his philanthropic heart that led him back to Western.

Larry was joined by long-time friend, Steve Fyfe and his wife Jennifer (Mcloughlin) Fyfe. Larry and Steve met in their first year when they were randomly assigned to be roommates in Saugeen. They have remained very close friends through the decades.

Larry and Steve in the 80s, and today visiting their old room in Saugeen-Maitland Hall.

Reminiscing about his years in the HBSc Computer Science program, he recognizes he wasn't the best of students. "Oh, I averaged in the 70s, but I worked damn hard." In fact, Larry credits Western for his incredibly strong work ethic and ability to stay focused. "You don't have to be the very best student. You can absolutely succeed when you work hard and have ambition," says the longtime businessman.

Now as an alum, Larry has decided to honour his Western experience through a philanthropic gift to the Faculty of Science. "I believe success is more than academic achievement. I want to support students who will have an impact on the world through their leadership, community involvement and entrepreneurial spirit."

The Larry Schecter Computer Science Award is new to Western, and Larry's substantial gift will support a chosen student three years at a time. It is the highest valued student award that has ever been given in the Faculty of Science. Larry is hopeful that it will inspire more donors to give.
"I want it to motivate others to sponsor a similar award or act as a mentor or get involved in some other manner. Giving back can really change someone's life, including your own."

Larry was thrilled to see the first award go to Anny Zheng, a second-year computer science student.

Anny is highly involved on campus, including being an executive member of the Chinese International Student Club where they help acclimatize new students through events and study groups.

When Anny logged into her student profile and saw a negative balance on her tuition, thanks to Larry's award, she could have cried. "It felt so good," says the dedicated student. "In my first year of university I was concerned about making ends meet. Now I can focus solely on my studies and volunteer work."

Anny couldn't wait to tell her parents about the award, and they were beyond proud of her. "In many ways the motivation this award has given me is more impactful than the money. It has helped my self-doubt disappear and I feel totally empowered to excel in this program and in my future career."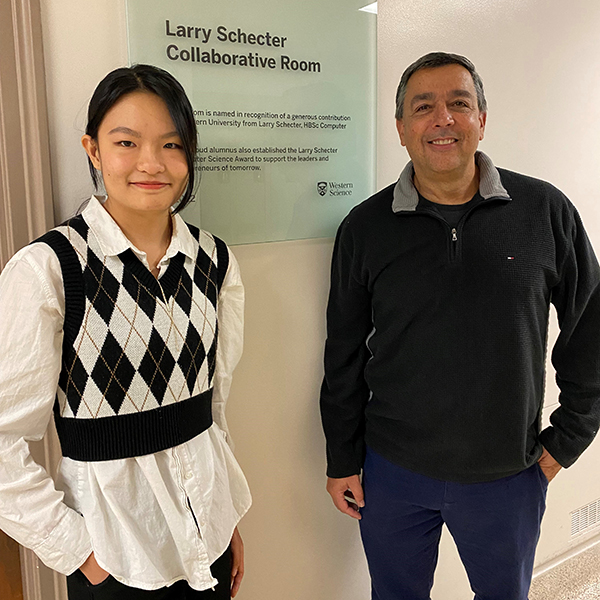 Music to his ears, Larry is hopeful the award winners will develop their own bond and create a small community to help to support each other. His vision is more than money. "It's a work in progress. It is not just financial. It will have other components, such as an alumni mentorship, senior-year student connections and encouragement and guidance to participate in leadership building experiences. I want the recipients to help develop what it looks like. My dream would be to have this award become a template for other programs too. The spirit of connection and collaboration is something that can carry these students through life."
Larry's wish for students is they have an outstanding experience at university, and that their friendships and relationships grow into something they never could have anticipated. "That's what happened for me. I'm living a life I never imagined, and I have a group of life-long friends who have supported me and grown with me every step of the way."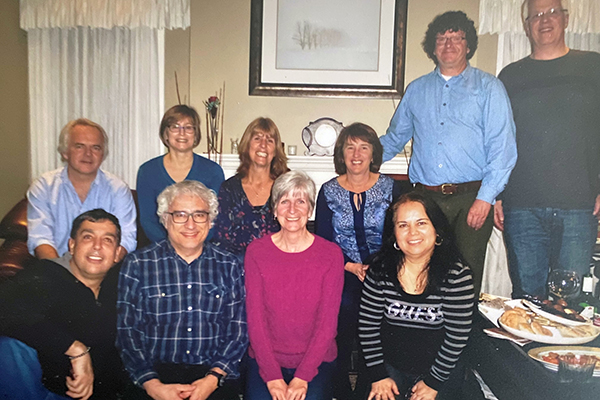 Larry (bottom left) and his computer science best buddies. Friends to this day.