The heart of the game
From bunny league to the Western Mustangs, Maddie Hill's ringette journey has led her to co-captain of the top team in Canada.
By Cassie Dowse

Maddie Hill's ringette career was over. As the high school senior set her sights on university, Maddie hung up her skates and said an emotional goodbye to the Mitchell, Ontario team that helped define her childhood and teenage years.

Involved in the sport since the age of five, it was a difficult but necessary change for the future law student who had secured provincial titles with a strong group of talented players, putting their small town on the map.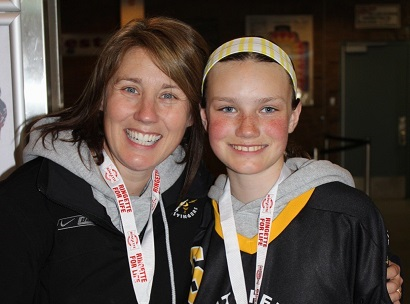 "I was busy writing university applications and working extra shifts at my part-time job to save for school," Maddie recalls. "Being an athlete requires substantial time, energy, and dedication, and for the first time, I felt that it did not fit into my future goals. My mom was disappointed but understood, supporting me as I focused on the next chapter."

As a child, Maddie learned to skate and played on a bunny league in her hometown. A ringette player herself, Maddie's mother Rose encouraged and nurtured her daughter's talent while serving as co-coach to the team.

During her teenage years Maddie played on the Mitchell Stingers, a point of pride for the rural community. Often up against older, seasoned teams from bigger cities, the Stingers held their own and created a reputation across the southwestern Ontario sports community as "the farm girls who know how to play ringette."

Ringette was a catalyst that helped Maddie connect to a passionate community of players, families and volunteers. She learned the emotional and physical requirements of being an athlete, as well as the value of giving back to the community by mentoring younger players.

Arriving for her first year at Western as a political science major, Maddie was determined to focus on her studies. When Rose began discussing the possibility of her playing on the Mustangs ringette team, Maddie brushed off the suggestion.

"I was enrolled in the scholar's elective program, hoping to finish my bachelor's degree in three years with the goal of studying at Western Law. I was rusty from taking the previous year off, and I was dealing with the challenges of being a first-year student. I decided to try out because I figured I wouldn't make the team anyway," says the talented player.

The moment Maddie's skates hit the ice her entire outlook changed. Donning a purple jersey and feeling palpable excitement amongst a talented group of athletes, she felt at home. To her surprise she was offered a full-time position on the roster.

"You could not wipe the smile off my face," says Maddie. "I forgot how much I loved the game. Being there in a Mustangs jersey reignited something in me. From then on, I'd do whatever was needed to be a successful student-athlete."
In her third year at Western, Maddie was promoted to co-captain of the team. Arriving to the locker room before a game, she found a capital letter stitched into her jersey. Although the honour was a humble surprise for Maddie, coach Ellen McClure saw her as a natural leader committed to the team and her studies.

"My decision to put a letter on Maddie's jersey was about her attitude and ability to stay positive in any situation," says Ellen. "As a team, we are amazed at what she has accomplished academically on top of being a student-athlete. She is a tremendous role model for my junior athletes. Maddie most definitely understands the value of giving back to our sport community and helping young athletes learn to love our sport the way she has."

Now a first-year Western Law student, Maddie's commitment to the team requires substantial time-management skills to balance her studies with training, exercise, competition, and travel – as well as her job as a campus tour guide.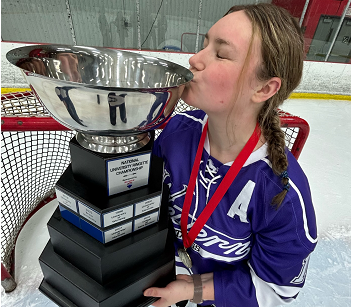 "I feel like I have a million things on the go, but I remind myself how lucky I am," says Maddie. "Any student-athlete can tell you that there are many sacrifices to make. When facing adversity, you have to dig in rather than fold up like a house of cards. As a team we always have each other's backs, and the lifelong friendships I've made through ringette are incredibly meaningful."

Maddie's mom often repeats a quote – coachable kids become employable adults – underscoring the life skills learned through team sports. A spirit of benevolence extends beyond the team and into the faithful community of volunteers and fans that engage with the game.

"Ringette belongs to a category of sports that don't garner the spotlight," says Maddie. "Because these sports are appreciated in small pockets, the people involved really love the game. But being an underdog also means that funding can be a big challenge."

Sports like ringette and hard-working student-athletes like Maddie often require additional financial support. Western's donors remove barriers and provide vital opportunities to excel on and off the scoreboard. From practical needs like specialized equipment, to tournament fees, to financial awards that encourage and motivate students, donors make a lasting difference, and are essential partners in propelling teams and athletes to success.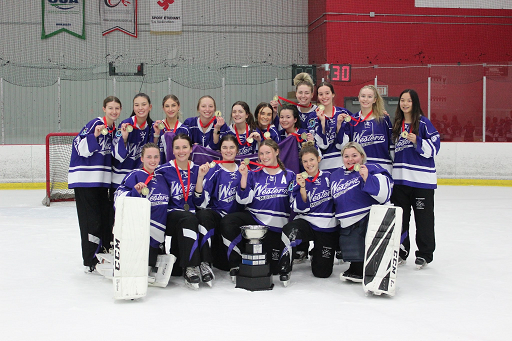 Maddie credits countless people for enriching her athletic journey. Very recently, her experience with mentorship came full circle when a young aspiring athlete in Mitchell described Maddie as everything she wants to be when she grows up. Bringing tears to her eyes, Maddie credits that moment as one of the main reasons she continues playing the sport.

Through the most enduring of bonds, Maddie and Rose have created memories together that will last a lifetime. "My mom is my hero and my biggest fan," says Maddie. "Ringette is our thing. She has always been there for me and pushes me to be the best I can be. The lessons she's taught me will persevere long after I hang up my jersey for good."