Rowing the distance
Trading Mustang purple for Rowing Canada red, Karissa Riley paddles into international waters.
By Cassie Dowse

Watching the sun dance as it reflects on the water, Karissa Riley feels a sense of calm washing over her as she focuses on the race ahead. As she catches the water with her blades, her muscles begin screaming – begging for relief as she rows to the 500-metre mark, fully aware she has 75 percent of the race still to go.

For Karissa, it's the ultimate test of mind-over-matter. Pushing through the pain, she directs her attention to the energy in her legs, trusting that her grueling emotional and physical preparation will pay off at the finish line.

"In the midst of a race I convince myself to make it to the next marker, one stroke at a time," says the accomplished student-athlete. "Research shows athletes achieve more by staying in a positive headspace as they approach competition. As a psychology major, it's fascinating to me that believing in yourself can do wonders for your athletic performance."

With a little luck and a great deal of hard work, Karissa is cautiously optimistic about the opportunity to compete with Team Canada at the Olympic Games in Paris, France next summer. The anticipation and trepidation are feelings that high-achieving athletes know all too well.

"Making Canada's national team was an absolute dream come true," says Karissa. "There's nothing like the feeling of earning that red maple leaf on your uniform. There are many steps I have to take before we head to Paris next summer, but I think I speak for everyone when I say how much of an honour it would be to make our country proud."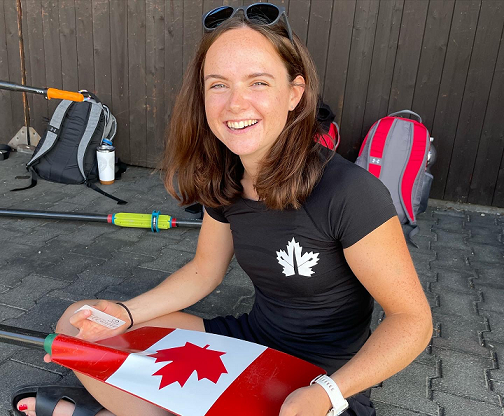 Changing directions

As a classically trained pianist and self-described "band nerd" who played the oboe throughout junior high and high school, Karissa never envisioned that she'd find passion and reward in a sport. Admittedly in a difficult period when she was introduced to rowing at the age of 17, it was a chance meeting that led her to a completely different life trajectory. The Calgary native remembers that time well.

"My school was holding information sessions about rowing during lunch to build out a team," she recalls. "I didn't have anything else to do, so I went to the meeting. My mom later convinced me to join the team. Little did I know, rowing would give me something positive to look forward to and work towards– something I greatly needed at that point in my life."

As a cross country athlete throughout high school, Karissa was familiar with the physical requirements of excelling in individual competition. What she had never experienced was the teamwork and connection that come with a sport like rowing.


"You can't really race a boat down the course when you're missing someone – everybody is essential to the team's success in a race," she says. "That sense of belonging was entirely new to me."

Moving to Ontario to attend university was a big decision that would take Karissa away from a supportive family. She was primarily interested in attending a school with a reputation for academic excellence – so much so, that she only applied to Western and one other school as a back-up.

"I wanted my degree to have meaning," she says. "I could have gone to a school closer to home and gotten better grades with less effort, but I wanted to challenge myself and study alongside the best students and highly regarded faculty."

It didn't hurt that Western is also known for athletics, with its rowing program intensively training athletes for success. Karissa recognized she'd have the best chance of excelling, as a Mustang.

Finding herself and psychology

As a first-year student-athlete, Karissa juggled training, competition, and her studies; describing the schedule as "pure chaos." Lacking the confidence to succeed and feeling out of place, she struggled to find her why for continuing to row. Remarkably, the solitude of studying and training remotely during the pandemic turned everything around.

"With online classes throughout my second year, I realized how much I missed rowing and that there was something special about our team at Western," she says. "I decided I wanted to compete in the national university championships. Our volunteer coach, Jordan Rendall, kept me accountable and really aided in my success. With this goal in mind, I trained hard that winter and I began to show some speed on the indoor rower which is equipped with an ergometer monitored by Rowing Canada."

In early 2021, Karissa completed a test on her ergometer that placed her number one in the national Under-23 Women's Lightweight division. She was brought out to trial with another athlete to compete in doubles. With a possible path to the national team, training suddenly became a big priority in her life.

"I knew I wanted to fully commit myself to rowing," she says. "I came back to campus in my third year a completely different person. I found myself and knew what I wanted to accomplish."

Finally feeling confident and believing in herself, Karissa fully committed to switching her major from biochemistry and medical science to psychology. This decision was partially inspired by a friend who was open about her mental health journey, and Karissa's experience dealing with her own mental health during the pandemic. Understanding the extreme pressures that high achieving athletes face, Karissa has her sights on becoming a mental performance consultant which will require a master's degree.

Support on and off the water

Beginning early April, Western's rowing athletes train at Fanshawe Lake from dawn to dusk in every type of weather imaginable, with the competition schedule picking up in the fall. Though the commitment is intense, Karissa says the team's solidarity motivates her. She also commends Western's coaching staff who provide much-needed guidance and expertise through the highs and lows of training and competition.

"My teammates and coaches make it a thousand times easier to get up at 4 am and train in the pouring rain!" Karissa laughs.
Working part-time throughout the school year as a full-time student and an athlete is challenging. Though Karissa has learned to make incredible use of her time, her involvement with provincial and national teams has often limited her ability to fund her education – a common difficulty experienced by student-athletes who have heavy schedules.
"The rowing program's donors truly understand the value of investing in student-athletes," says Karissa. "They fuel our successes as individuals and teams and motivate us to push ourselves further than we may have thought possible. Student awards often require high grades, so donors also motivate us to aim high academically. I can't put into words how grateful we are for that support."
Women's rowing head coach Matt Waddell echoes that sentiment, naming rowing's faithful donor community as key to team success.
"Karissa's development within the program has been truly exceptional and is a testament to her dedication and passion. Thanks to our generous donors, student-athletes like Karissa channel their work ethic in an environment that supports them with the proper equipment, funding for travel, and coaching support."
Calmer waters
It's been a long and sometimes turbulent journey for Karissa to arrive where she is today, but she wouldn't change her Western experience for anything.
"Western has gone above and beyond my expectations," she says. "As an out-of-province student, it became my second home, and it's the place that I found myself. Although I'll miss our coaches and teammates, I know we're cheering for each other as we all take on new challenges."
Currently training with Rowing Canada as an individual and team rower in Duncan, British Columbia, Karissa admits that leaving Western behind is bittersweet. But beyond Fanshawe Lake, her future is bright and boundless.
"What I love most about rowing is that there's no limit to how fast I can go."
This story is featured in Western's 2023 Annual Impact publication.