Reaching the finish line
Software engineer, track and field star and fourth-year student Favour Okpali chases her passions as she approaches her final year at Western.
By Cassie Dowse

Software engineer, track and field star and fourth-year student Favour Okpali chases her passions as she approaches her final year at Western.
You may not expect sorrowful songs about heartbreak and loneliness to effectively prepare an athlete for competition, yet for Engineering student Favour Okpali, evocative music triggers a necessary shift in her mindset. From dramatic power ballads to rap, music inspires an all-encompassing emotional reaction that provides the elixir to calm her nerves before the start gun goes off.
"In the moments before a race, I listen to music to turn my focus away from what I'm about to do," the varsity sprinter says of her priming process. "Whether it's sad, happy, or energetic, it helps me escape the pressure of the challenge ahead. The less I think about it, the more capable I feel."
Favour's long career as a student-athlete has been enriching. She began track and field in elementary school, but admittedly did not take it seriously until high school when she discovered a love for both the sport and the teamwork. She soon began competing at regional and provincial levels.
"I've always loved running long distances as well as short sprints," she shares. "As I began thinking about achieving medals and titles, I felt inspired to push myself. The harder I worked, more opportunities came my way."
When choosing a university, an established track program along with a high-quality engineering faculty were equally considered, and Favour knew that Western was the best fit for her. Highly sought-after amongst the schools she applied to, she was recruited to Western for her athletic talents and impressive grades, with Western's head track coach Vickie Croley recognizing the young athlete's abilities.
"Favour has an incredible work ethic," says Vickie. "As our women's team co-captain this year, she has contributed positively while leading her teammates and encouraging them during training and workouts. She champions their successes and leads by example, pushing herself to be her best both on the team and in her studies."
Favour's first year at Western was challenging as she worked hard to balance the demands of school and athletics. "My first year was tough because I wanted to do well in school, but I also had goals as an athlete that were very important to me. Sometimes it felt like I was sacrificing one for the other."
Favour sees each race as an opportunity to learn more about herself. "Approaching a competition, I think about how to start, how to pace myself, and when to unleash my energy for a final push to the finish line," she says. "Regardless of my running time, each race allows me to assess what works, or what I might do differently next time."
Favour also races on a relay team with fellow student-athletes – a meaningful experience that has formed lasting connections. Though Favour and her teammates have achieved some impressive titles, including placing second provincially in their most recent Ontario University Athletics competition, it's also the small gains that drive them forward.
"Sometimes we measure success by our running time, and when you're dissatisfied with your performance it can be very disheartening," she says. "The other aspects of training – working out, running and lifting – can bring much-needed structure to our lives as athletes. If I know that my teammates and I are killing it at practice, or have achieved a heavier lift, it gives us the opportunity to cheer each other on and celebrate those smaller successes."
Dedicated to her fellow team members, Favour treasures the friendships she's made, understanding each person's role to the team's success. "As much as everyone wants to run the best race, it's important to bring your A-game to every practice and support each other through the highs and lows. My teammates inspire me to do my best because I want to make them proud."
Donor funding is vital for student-athletes like Favour. With so much on her plate, opportunities to work and earn money can be difficult. "For student-athletes, having a part-time job isn't always possible because we don't have the spare time," she says. "That's why donor funding through the Adopt A Mustang campaign, or through student bursaries and scholarships, are so important!"
Right now, you can support student-athletes across Western to ensure that no Mustang goes without the resources they need to succeed. Your gift means so much more than what's on the time clock for our athletes, providing motivation to excel athletically and academically.
As Favour approaches her fifth year at Western, her future goals include earning a solo medal at the national level in the 300- or 600-metre sprint events. She also hopes her relay team will achieve first place nationally before she graduates from Western in 2024.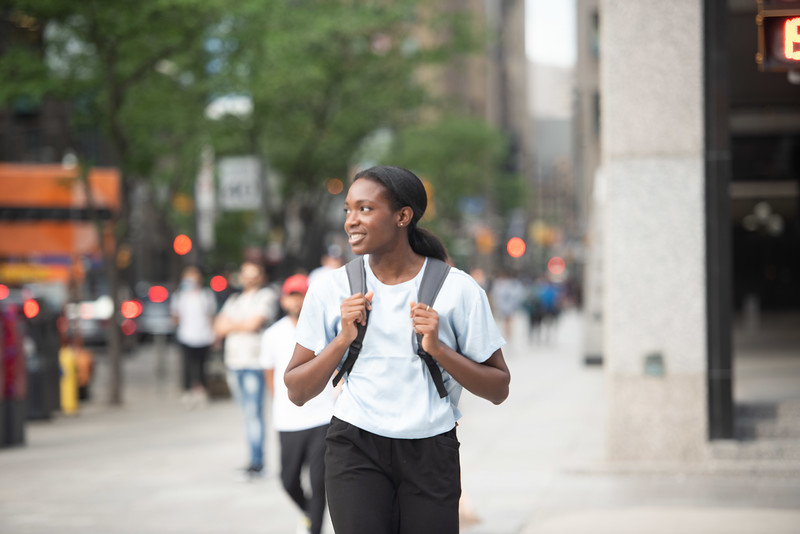 With some impressive internships at large organizations on her resume, including Microsoft and the Royal Bank of Canada, Favour looks forward to her future as a software engineer. She expects that running will always hold a significant place in her life.
"After I graduate, I'd love to continue training and see where things go professionally. I also want to explore how I can give back to Western and mentor younger athletes," she shares.
The fleeting feeling of her shoes hitting the pavement holds strong after all these years. Regardless of the time and energy required to excel at the sport, each race brings Favour closer to achieving her dreams – well worth the sacrifices that define the life of a student-athlete.
"Being an athlete takes a lot of self-discipline because you are constantly training. Some workouts are really hard, and it's tough to stay motivated during the off-season when you could be spending time with friends and family. But it's something we must do. I wouldn't trade my experiences at Western for anything."