Playing It Back
Western alum Dorothy Hollingsworth is ensuring music students have a bright future in the arts thanks to three endowed scholarships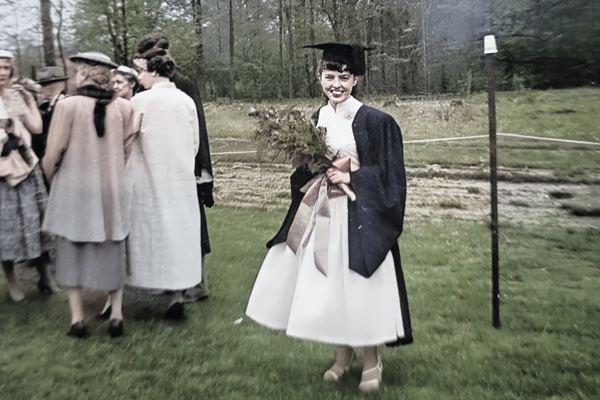 Dorothy graduated from Western in 1956 with a bachelor's degree in music.
"I feel very blessed to have gone to university," says Dorothy Hollingsworth, BMus'56, sitting in her London, Ont. condo, elegantly decorated with worldly art and artifacts gathered over a lifetime of travel. "In my era, from a small town, there were very few girls that got the chance."
Born and raised in Watford, Ont., she grew up among farmers and factory workers. Her father, William, was the production manager at the Andrews Wireworks (which made bicycle baskets, kitchen tools and many other objects from wire) and May, a stay-at-home mother.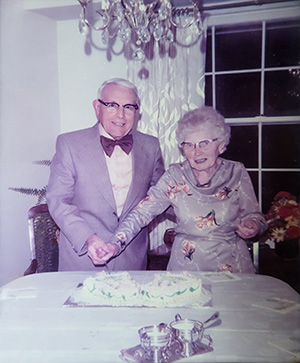 "Dad only had a grade eight education, which was typical for that generation," Dorothy says. "Nevertheless, he recognized the importance of going to university."
Later in his career, William began to invest in the stock market, thanks to the advice of his boss (a former Western business graduate), and he was beginning to see a return on his hard-earned money.
When his two daughters wanted to continue their education, William was prepared to help them with school and lodgings, though nothing extravagant. Dorothy recalls her dad worrying over how he was going to pay for her elder sister's accommodations while at Westervelt College week-to-week, but he managed. When it was Dorothy's time to go, her dad had earned enough money to send her to Western.
AN ODE TO DOROTHY
Favourite song? "Beethoven's Symphony 9th Ode to Joy". It was our wedding processional!
Favourite instrument? Piano
Favourite place to travel? I've been pretty much all over the world. I can name a few places: New Zealand for the vegetation, South Africa for the animals and Paris for city life.
Favourite memory from childhood? My dad would drive us every Saturday night to Strathroy to see a movie. We had a horse blanket called a 'robe', which felt like coarse animal hair. It was prickly. But it kept us warm because the heat didn't go to the back of the 1939 Chevrolet.
"It was a happy place to be," says Dorothy about her time at university. She rented a room at the back of a house close to campus. Dorothy initially took French and Spanish but decided that music was her true passion (having taken piano lessons since she was five years old).
For Dorothy, her experience was not just academic — being social was highly important as well. The friendships she formed with her peers in music, business, medicine and other faculties have continued to enrich her life over the years.
"I feel an obligation to give back. My life was much more rewarding and fulfilling than it might otherwise have been without my university experience," says Dorothy, speaking of her recent donation to the Don Wright Faculty of Music at Western.
Through her own careful management of money, Dorothy has gifted the school $595,000, which comes from the untouched stock portfolio she inherited from her parents. And in their honour, Dorothy has created three endowed continuing and concurrent scholarships — the first of their kind in the faculty — aptly named the William and May Hollingsworth Scholarship in Piano, Voice, and Music Education.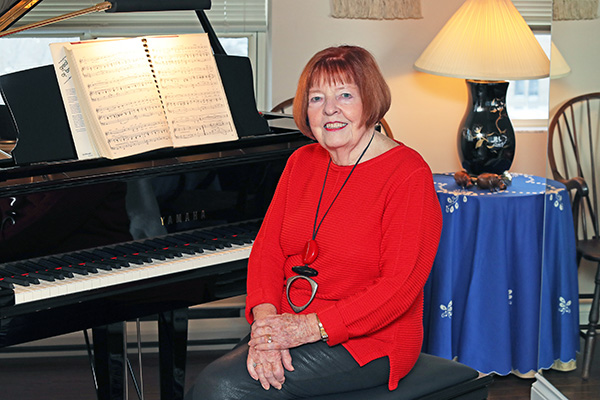 Dorothy sits at the piano, her favourite instrument to play, at her home in London, Ont.
What's exciting about the awards for Dorothy is knowing that her gift will support up to 11 students each year and provide them with financial support until they finish their studies.
"The arts serve people through a lifetime of creating. And yet they are grossly underfunded," says Dorothy. "When you think of music grads, who have spent countless hours honing their skills, they are not rewarded proportionately [to other faculties], in my view. It's important to support all the arts."
ABOUT THE SCHOLARSHIPS
William and May Hollingsworth Scholarship in Piano: Awarded to a first-year student studying piano, who will receive $2,000 annually for four years if they maintain a minimum average of 80 percent.
William and May Hollingsworth Scholarship in Voice: Awarded to a first-year student studying voice, who will receive $2,000 annually for four years, if they maintain a minimum average of 80 percent.
William and May Hollingsworth Scholarship in Music: Awarded to a second-year student in the music education program, who will receive $2,000 annually for three years, so long as they maintain a minimum average of 80 percent.
Each year, three new students will be chosen to receive support throughout their music education.
For more information about how to give to student awards, or other music priorities, contact Karmen Ferraro at 519-661-2111 x85695 or email karmen.ferraro@uwo.ca.
After graduation, Dorothy went on to teaching and found herself in the role that suited her perfectly, becoming a high school counsellor. Thinking back on those days, Dorothy notes she was happy to go to work each day.
When it was time to close that chapter of her life, Dorothy became a tour operator and began arranging specialized trips all over the world, for Canadian physicians, dentists and other professionals. She did this alongside her husband Bill, who was savvy in business, politics, and publishing.
Sitting amongst her mementos, collected from all over the world, the 89-year-old has lived a fulfilling life full of adventures. Her one desire for these scholarship awards is to see students succeed and be accomplished in their careers.
"I hope their education will be fulfilling and open the path to success in whatever endeavour they end up in," says Dorothy.
---
Dorothy has also chosen to give through her will and leave a legacy gift to create an endowment for an artist-in-residence at the Don Wright Faculty of Music. This she will name in honour of her late husband, Bill Nobleman, and herself.