May you do good in whatever you choose

How does one build a successful life and career?
In his convocation speech, business leader and philanthropist Jeff Parr, BA'82, posed this question to Western's 2023 class of social science and BMOS graduates.
His advice? Be your best self. Push your comfort zone. Take calculated risks. Collaborate. Embrace continuous learning. And above all, extend a helping hand to others along the way.
Jeff and his wife Shelley Parr were recognized by Western University with honorary Doctor of Laws degrees, joining a select group of distinguished individuals in receiving this prestigious recognition.
Speaking on behalf of the couple, Jeff told graduates, "Shelley and I are a few miles ahead of you in this long race. Our personal and professional success is built on giving back and helping others unconditionally."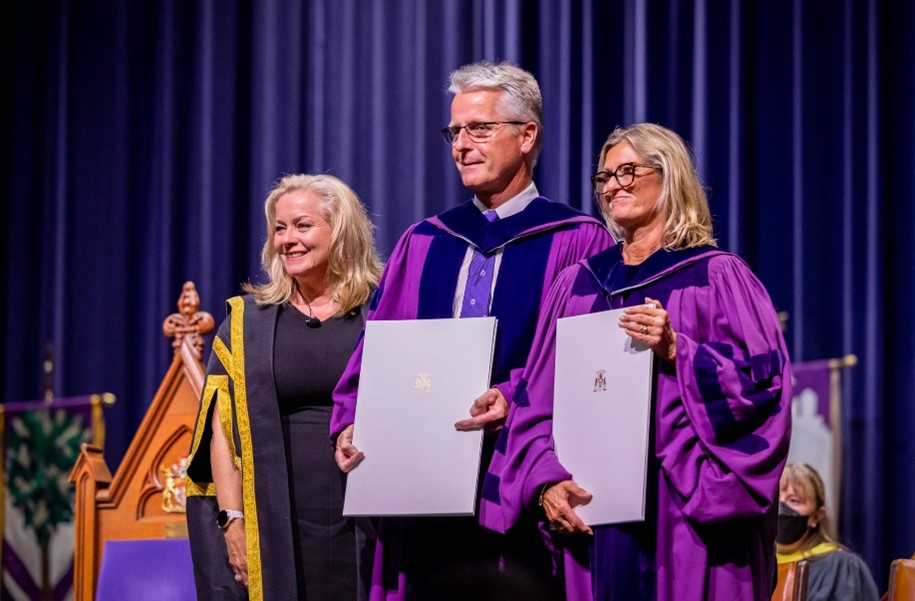 Jeff and Shelley Parr receive their honorary Doctor of Laws degrees from Western.
Walking the Walk
A social science major himself, after graduating from Western in 1982, Jeff achieved remarkable professional success, first with Coopers and Lybrand (now PricewaterhouseCoopers) and later with Clairvest Group Inc.—today, one of North America's top-performing private equity firms.
Recently retired from his role as Co-CEO of Clairvest, Jeff is dedicating even more of his time, talent and resources to helping those in need. He and Shelley support a range of health causes, including raising awareness and support for student mental health—an issue close to their hearts.
Mental health challenges have touched our family and our friends' families," says Jeff. "In all instances, they could have been assisted and treated sooner if they'd had the proper supports and learned the proper coping mechanisms
Helping Western Students Thrive
In 2020, the Parrs donated $9.2 million to establish the Parr Centre for Thriving at Western University to promote student wellbeing and position the university as a national and international leader in student mental health.
The Parr Centre's integrated approach brings together a community of experts committed to creating greater awareness through programs, education and strategic initiatives that provide students with the tools to thrive academically and personally from the moment they step onto campus.
In collaboration with various student-focused departments within the university, including Western Student Experience, residences, the Centre for Teaching and Learning and Western Libraries, the centre funds numerous projects designed to help students during their time at Western and beyond.
"Mental health is an extremely important issue that hasn't been addressed well in the past," says Shelley. "For first year students in particular, many of whom are living on their own for the first time, this program helps them transition to university and gain confidence as they move into adulthood."
A Gift that Inspires Others
In addition to awareness and support, the Parrs' visionary leadership is a crucial catalyst for heightened interest in student mental health.
"Jeff and Shelley's commitment is shining a light on the need for and importance of philanthropic involvement in this critical area," says Jeff O'Hagan, vice president of University Advancement at Western University. "Their gift has inspired countless others to contribute to the Parr Centre for Thriving and their openness about mental health struggles is encouraging others to share their challenges and seek help when necessary."
Concluding his speech, Parr again drove home the importance of living a life of service. Wishing the new graduates luck in their future endeavours, he left them with a call to action: "May you do good and help others in whatever you choose and have a positive impact on all you touch in your future."