Making a difference at Western: A donor's story
'You don't need to be a high roller to make a difference.'
By Mary Lou Reeleder

Charitable giving has been a priority for Rob (Hons BA'74) and Ruth Stapleford (BA'75) for many years. When it came to planning their Wills, the couple was delighted to discover that they could make a difference for their family of three children and four grandchildren, and for the causes they believe in.

Rob and Ruth will celebrate their 49th wedding anniversary in June 2023. When they reviewed their estate plans recently, they began to seriously consider what they wanted to accomplish and what they wanted their legacy to be. They learned that favourable economic conditions created an opportunity for a legacy gift in their Wills while assisting their immediate family.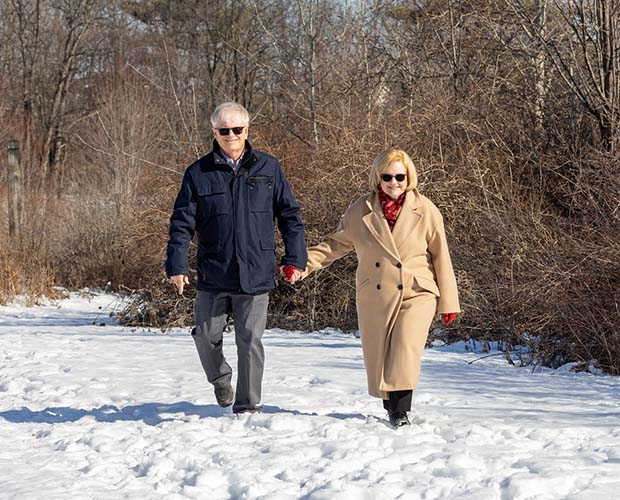 Lovers of travel and the outdoors the active couple is planning their next trip.
"We thought, why don't we consider a legacy gift for some of the charities we support? Our family comes first, but we feel our children will be well taken care of," says Rob.  
The couple's children grew up knowing how much their parents valued post-secondary education – a virtue that was passed onto Rob and Ruth from their own parents.  "Higher education is important to us and has helped us to live a good life," says Rob. "We have always encouraged our children to follow their dreams by pursuing education. One even chose to study at Western!" 

Once the decision to include charities in their Wills was made, the Staplefords were surprised at how easy it was to make it happen. Making a charitable gift can be done by including a provision in a new Will or making an amendment (known as a codicil) to an existing Will.   

Rob and Ruth decided to leave an unrestricted gift trusting Western to allocate their donations wisely.  

They feel confident that their plans are a win for their family, the university, and future students. "We are just regular folks. You don't have to be a high roller to make a difference," states Rob.  

The Staplefords see supporting charities through their Wills as a way of setting a good example for the next generation. "The legacy gift came as no surprise to our children. I think it displays our values in a tangible way that our family can see and appreciate," says Ruth. 

Beyond the benefit to individuals, the Staplefords believe a world-class education system is essential if Canada is to compete in a challenging world.  "We hope our gift improves the quality of education when it is realized and has a benefit to future generations including our grandchildren," Ruth says happily.