Helping people from all walks of life 
By Cassie Dowse
Western Engineering research team developing innovative solutions to help people walk – affordably.
Last summer, Western Engineering student Anita So seized the opportunity of a lifetime. Though she knew her newly attained research position could fulfill some lofty ambitions, the work translated into a more meaningful purpose than she could have imagined.

Now, Anita is humbled that she has the potential to be one of the first in the world to develop 3D-printed walkers. This project, led by Western Engineering professors Jacob Reeves and Joshua Pearce, would dramatically reduce the price of these devices for impoverished individuals or those on a fixed income with mobility issues in countries with a lack of affordable health care.
"It is a privilege to be working with such intelligent, passionate, and caring people towards this goal."
Assistive mobility devices empower individuals who require them, allowing them to live at home longer while dramatically enhancing their overall quality of life. Walkers are especially beneficial in reducing chronic pain and increasing endurance.


But what should be a basic necessity comes with a high price tag. As Anita signed on to the project, she was shocked to learn how unattainable mobility devices can be for those who need them.

"I could not believe the high cost of these essential items that people rely on," says Anita. "While a large percentage of that cost is covered in Canada, that isn't the case for the United States or in developing countries without affordable access to health care. For someone on a fixed income or living in poverty, this has unacceptable implications. It needs to change."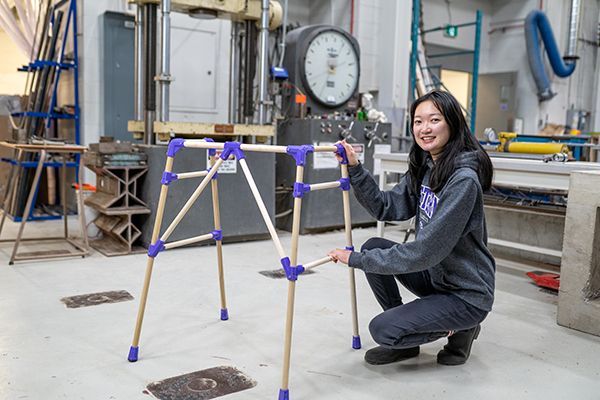 This situation did not go unnoticed by professors Reeves and Pearce who proposed the use of 3D-printing to radically cut the cost of walkers, thereby increasing accessibility. Next came the process of collaborating with Professor Joshua Pearce, and finally, bringing together a dream team of students to make this vision a reality.

"This research has the potential to directly improve the quality of life for those who need it most," says Reeves. "These students are challenging what the future holds for those with mobility and financial issues and advocating for a better life for vulnerable people around the world."

Encouraged by her mentors, Anita was thrilled to accept a position that is rooted in compassion for others. Though the role began as a summer research position, it has moved into part-time work during the school year. Anita describes the opportunity as "the perfect job" as she works toward her bachelor's degree in Integrated Engineering at Western.

From concept to design, Anita was engaged in every step of the process. She conducted research to determine the measurements that would suit users with varying sizes and spoke with individuals who use mobility devices to get valuable feedback. Knowing that the joints of the walker would be printed, she selected wood dowels to construct the device as it proved to be the strongest, most accessible material.

"Making prototypes was a long process with a lot of trial and error," says Anita. "But that's what research is all about - exploring ideas, taking risks, and learning from them while keeping a positive attitude."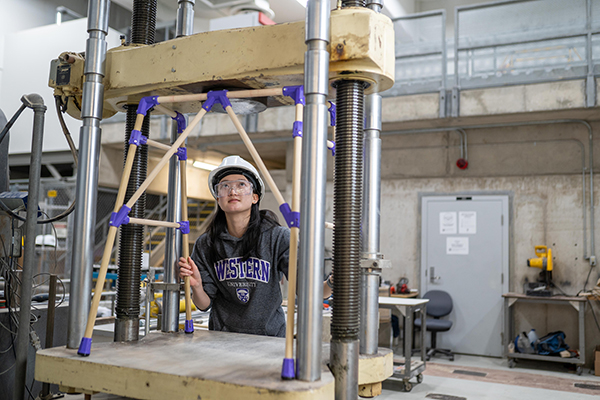 Anita is currently testing the walker to determine how much weight and force it can handle to figure out how to customize devices for different users. Following this, the team will publish a paper and release their research and files to the public to gain feedback from others in the community. "That's the beauty of open source – it facilitates collaboration with anyone on the planet," says Anita.

Anita's peers on the research team are working to address challenges at each step of the manufacturing process. They are developing solar panels that can run 3D printers and turning waste plastic into the filament required to produce the walker's components. This would see the cost of the walkers being reduced even further.

"It is a privilege to be working with such intelligent, passionate, and caring people who support and encourage each other as we work toward this goal," says Anita.
Donors are the solution
Anita comes from a hardworking family; her immigrant parents working seven days a week to help put her and her brother through university.

Given the opportunity students like Anita can change the world.

Right now, student-researchers across Western are pushing the limits of knowledge and finding solutions to the most pressing challenges of our age. But this work does not come without barriers, both personally and scholastically.
Students often need additional financial support, and right now there is an opportunity to support scholars like Anita. You can help remove a student's financial hurdles and anxiety and help them to follow their dreams.
Anita was the recipient of the Shamrock Foundation Award in Engineering which helped alleviate the financial strain of a top-notch education. The donor-funded award was so appreciated by Anita and her parents.

"I've been given an incredible opportunity," says Anita. "This work provides immense joy and purpose, because I know that it's going to help so many people. Donors really enable students to reach their full potential. Our work would not be possible without them."

And what's next for this aspiring team of student researchers? "We are discussing experimentation with a walker with wheels and a seat," says Anita. "It's all very exciting!"

With vision, tenacity, and creativity, Western Engineering students and faculty are creating innovative solutions to a complex global issue, and donors continue to be the solution needed to carry on this great work now and into the future.