Beyond Brick and Mortar
Desh and Ladi Malhotra gift their home to Western University for a renewed cause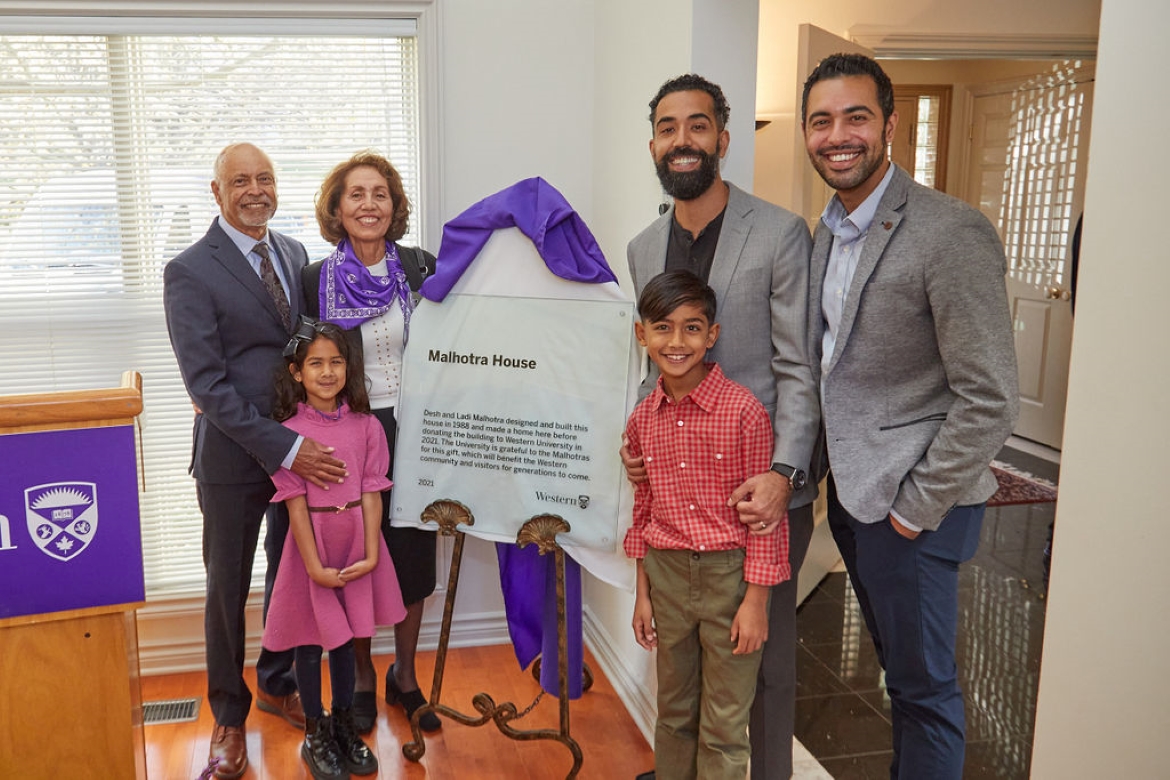 After decades of establishing their careers, raising two children and contributing to London's community, Desh and Dr. Ladi Malhotra closed the door to their family home for the last time, handing the keys over to Western University for a renewed cause.
The Malhotras envisioned that their gift (valued at $2.2M) would enable the university to host world-class scholars and visitors to Western. In turn the distinguished guests would contribute to Western's local and global impact.
The home, which was designed and built by Desh, is affectionately called "Malhotra House," and is just a 10-minute walk from campus on a tree-lined street that backs onto Brescia University College.
It accommodates up to three visitors and has all the comforts of home thanks to the Malhotra's generosity – including furnishings, appliances and a piano – providing distinguished guests with space to focus on their work or find time to relax.
"London has been so good to us," says Desh. "We really wanted to give back to a community that gave us so much. Western seemed like the perfect fit to utilize the house in a meaningful and impactful way."
Western President Alan Shepard notes that the house "plays an important function in the life of the university, bringing the knowledge and expertise of national and international scholars and visitors to Western".
This summer, the renowned French mathematician Christian Maire settled into the house as the first Visiting Fellow of the Western Academy for Advanced Research (WAFAR).
WAFAR attracts the brightest minds from around the world, who are scholars, thinkers and leaders from academia, government, or the private sector. They are chosen based on their reputation of excellence and fit within a theme for academic exploration, delivering seminars and publishing research findings.
Maire is an internationally recognized leader in numbers theory, travelling from Europe to contribute to the theme: Mathematics of Neural Networks. Maire is lending his valuable expertise to a team that is working to bridge the gap between mathematical discovery and medical practice.
Into the fall and winter, Malhotra House will receive special guests Paola Giudicianni, Institute of Science and Technologies for Sustainable Energy and Mobility, from Italy and Lucy Jones, Dr. Lucy Jones Center for Science and Society, from California as part of WAFAR's Visiting Fellows program.
The Western Connection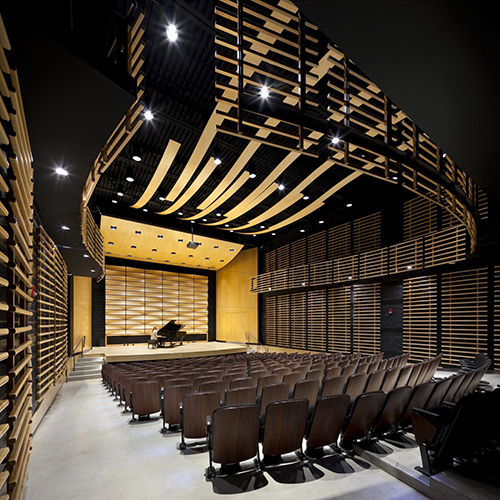 Interior renovations for Talbot College for Don Wright Faculty of Music, designed by Desh Malhotra/Nicholson Sheffield.
The Malhotras have a long-standing connection to Western through their careers and philanthropy.
Desh is an Ontario-based architect, who established Desh Malhotra Architect Inc. in 1984. The firm, now known as Nicholson Sheffield, is responsible for designing many of the buildings on Western's campus, including Thompson Engineering Building, Clinical Skills Building, NRC Building at Research Park, Talbot College renovations for Don Wright Faculty of Music, Support Services Building, and extensive renovations to the Biological and Geological Sciences Building and Medical Sciences Building.
Ladi is an adjunct professor in the faculty of general adult psychiatry at the Schulich School of Medicine & Dentistry at Western. She completed her medical training at the University of Delhi in 1971 and her psychiatry residency at Western in 1985.
The Malhotras are also strong supporters of the Western Mustangs football team. In 2021 the couple's generous donation helped enhance the Thomas G. Whealy Mustang Football Locker Room – named for their friend and longtime supporter of Western Athletics, who has given financial awards to more than 100 football players for nearly two decades.
Desh and Ladi have been a part of Western and the London community for 44 years now. The couple has been motivated by their friends in the philanthropic sphere of the city.
"We have been inspired by other donors of Western and their vision for giving," says Ladi. "Desh and I never thought that we would ever be in a position to do it. When we realized we had an ideal asset in the house, our friends encouraged us to go for it."