A moral and ethical purpose
By Cassie Dowse

From the farm to the city, Western Law student Maddie Hill remembers her roots as she aims to make a difference
Maddie Hill has many roles and passions. The first-year law student is a captain on the Mustangs ringette team and champions Western as a campus tour guide. But her most profound role as a self-described "farmer's daughter" lit a fire in her journey to study law with hopes of making a lasting difference for future clients.

The Mitchell, Ontario native grew up on a pig farm and is no stranger to hard work; it was engrained in her from the beginning. When Maddie was younger, her parents started their own business creating a custom line of pork products. She witnessed as they worked incredibly hard to build their business but encountered unfortunate struggles with contract disputes, resulting in significant stress and financial loss.

"The final straw was an incident in my second year of university when my parents went through a legal experience that affected our whole family," says Maddie. "It hit so close to home. I always knew I wanted to be a lawyer, but that was the push I needed. I immediately went online and bought all the law school admission test (LSAT) books."

Western's Scholars Elective Program is designed for high-achieving students who intend to pursue education at the post-graduate and professional levels. Maddie – who was in the top of her class as a political science student – qualified for the program and took on a heavy courseload to achieve her bachelor's degree in just three years. She successfully wrote the LSAT and was accepted to Western Law for the 2022-23 academic year.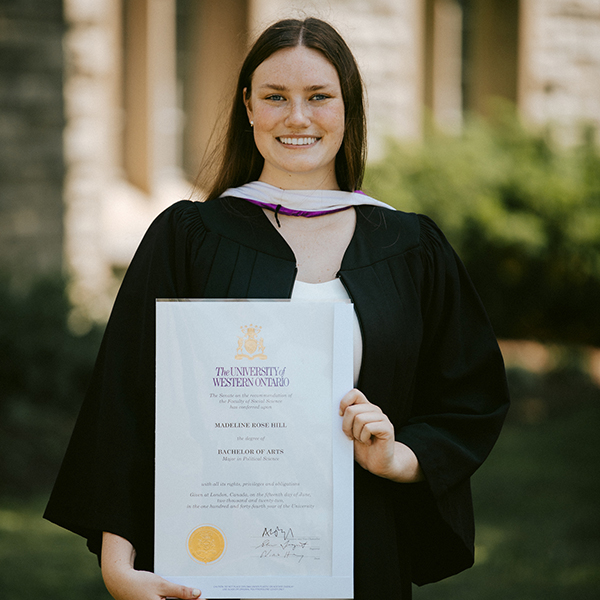 Emily Gethke Photography
Maddie has talked about attending law school since third grade. Recognizing her natural thirst for knowledge, Maddie's parents did their best to fuel her curiosity by allowing her to sit in on business meetings and review contracts. "They never doubted me for a second," says Maddie.

While popular courtroom dramas depict heroic lawyers questioning star witnesses who crack under the pressure of interrogation, big and flashy cases are not what resonates most with Maddie. She is inspired by cases with moral, ethical purpose that make a difference in the lives of blue-collar workers.
Maddie is inspired by cases with moral, ethical purpose that make a difference in the lives of blue-collar workers.
"I enjoy reading about a range of cases – like a farmer's field being trespassed, or a sub-contractor refusing to pay a small business. It's the cases that have a practical application to everyday issues that have clicked with me most," she says. "Cases about real people, in hard-working professions, who require guidance through an increasingly complex legal system."

From the moment Maddie visited Western during a recruitment open-house tour, the small-town feel of the campus and tight-knit community reminded her of home. Always envisioning herself in a metropolis like Toronto, her instant love for Western came as a surprise. The experience was so profound that Maddie is proud to share her story with prospective students and their families as they visit campus for the first time.

Many law students are concerned about the finances required to complete their studies, especially with the increasing cost of living. For Maddie, donor-funded awards have given her purpose to push forward and thrive with a well-rounded student experience. Maddie was awarded the Andrew Grant Scholarship during her undergraduate studies and the Newton Rowell Entrance Scholarship for Western Law.

"Donor-funded awards have given me the flexibility to take a leadership role on the ringette team and work as a campus tour guide to impact prospective students," she says.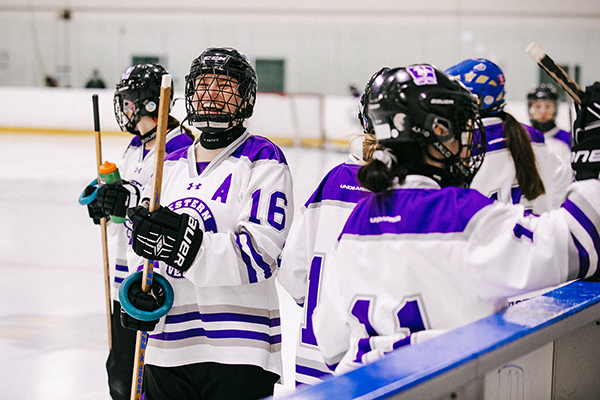 Emily Gethke Photography
The student award Maddie received in her second undergraduate year was especially meaningful. A letter arrived informing her of a scholarship she would receive for having the highest grade-point average among her year in the political science program. "It meant so much to me! It showed me I was on the right track and that I made the right decision to study political science," she says.

Western Law's donors remove financial barriers, enabling students to challenge what the future holds. From protecting a small family business to navigating complex global challenges, donors help build student confidence as they address some of the most pressing challenges of our time.

Your generous gift allows the next generation of legal scholars to shape a more virtuous society.

With compassion rooted in a humble small-town upbringing, and the perseverance to excel in the classroom and on the ice, there is no telling what this determined scholar can achieve.

"People study law for different reasons," says Maddie. "My purpose is helping people who are confronted with difficult legal situations that affect their livelihood – supporting people just like my parents. Wherever I go in my future career I never want to lose sight of that."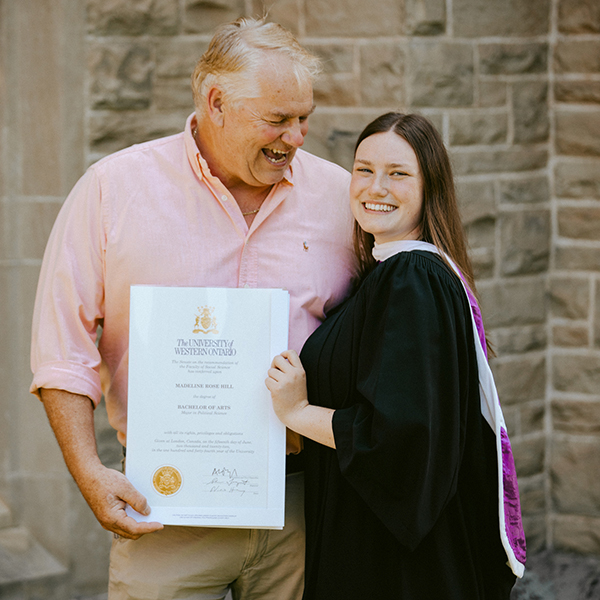 Emily Gethke Photography