Unlike any experience you will ever have
Passion for the sport, fond memories and strong bonds drive donor, Duncan Macgregor, and volunteer, Lindsay Merrifield, to support Western rowing years after graduation.
By Amanda Jackman
It was the early 1960s and Western student Duncan Macgregor, tried rowing for the first time. "I wanted to play football, but I didn't want to give up time in the summer with my girlfriend," laughs Duncan. "It all worked out," he smiles. "We have been married for 57 years."
Duncan, who studied business at Western, stepped into a boat on Fanshawe Lake and the rest was history. "In those early years we operated out of a barn. Most of the other sports had much better facilities and updated equipment. We just dealt with what we had, which wasn't much. But I loved it anyway."
Duncan rowed competitively at Western for four years and reminisces about the days when they trained in the chilly late fall days. "It was so cold, and we couldn't wear gloves as we rowed. We couldn't warm up, but we did it for each other, the team and our coach."
Passionate about rowing, Duncan says it's the ultimate team sport. "There's no glory, no people in the stands, just eight people in a boat being part of a determined hard-working group."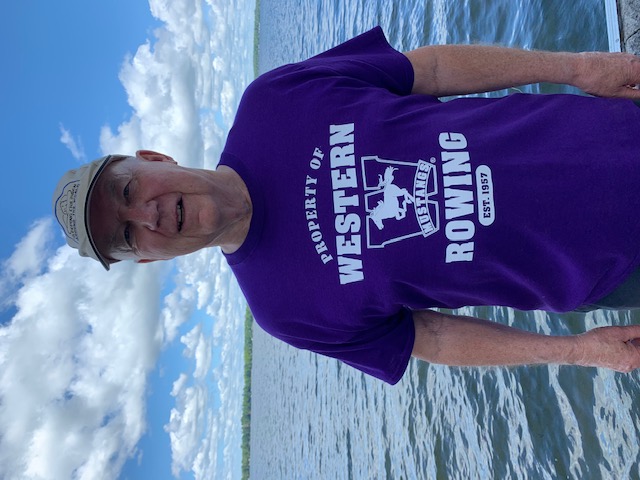 Duncan and his teammates were a formidable eight in the early '60s often beating both Canadian and American opposition every year. In his third year, the senior eight won the Eastern Canadian intercollegiate championship. "One of my teammates Roger Jackson even went on to the Olympics in 1964 and won gold," says the proud teammate.
The fond memories and passion for the sport have inspired Duncan to give back to the team through financial contributions. "It was one of the best times of my life, and I want other rowers to have that experience. I also want them to have great equipment and coaching. I learned so much about myself when I rowed and about how to work with others. It was invaluable."
The Western Rowing Team is rounding the bend on their last push to complete their current fundraising campaign. "We are incredibly close to reaching our goals in both our Adopt a Mustang and Coaching Matching Fund campaigns," says men's coach Daniel Bechard. "Every donation makes a difference in helping to break down financial barriers enabling student-athletes achieve their dreams. We are so grateful for the contributions from donors like Duncan who keep us striving for greatness."
Life lessons
Lindsay Merrifield caught the rowing bug in high school and when she attended Western from 1998 to 2002, she was able to continue her love of the sport. "Rowing has been instrumental in my development as a whole person; whether that's as a friend, employee, spouse, or parent."
Lindsay, now a volunteer with the rowing team, strongly believes the determination and teamwork she learned through rowing will stay with her forever. "Those life lessons make you a better person."
Women's coach Matt Waddell is grateful for the time and dedication of volunteers like Lindsay. "We rely on volunteers to help guide student-athletes. Often their first-hand experience helps new athletes understand the value of rowing."
Lindsay advocates for anyone who has ever been interested in rowing to try it out. "Rowing is one of those sports that involves athleticism and skill, but equally important – if not more – is your ability to work hard and push yourself, and to do so with your team. I would recommend it to anyone."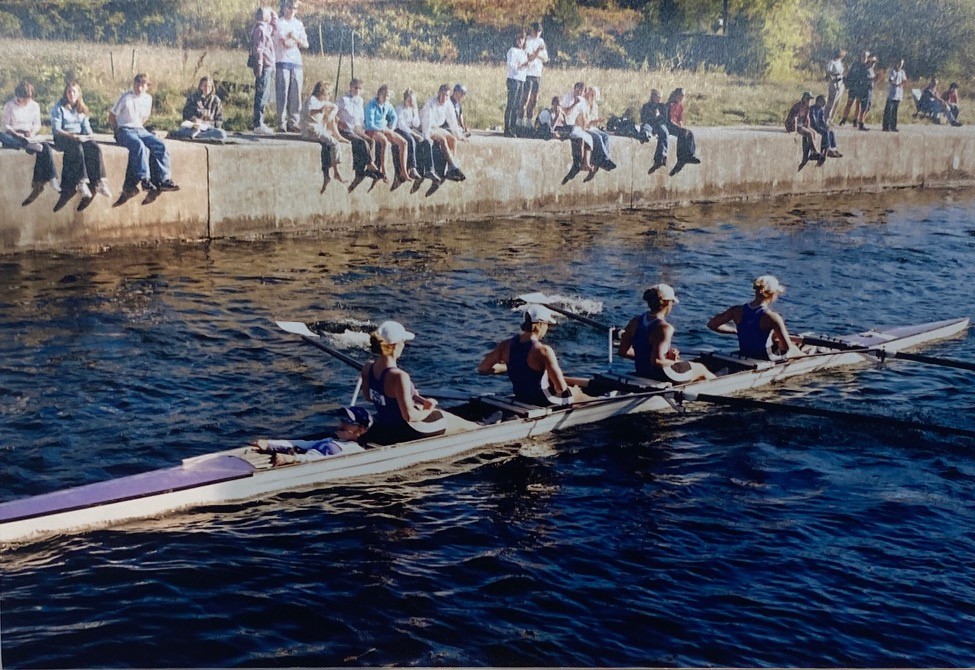 While at Western, Lindsay and her team were Ontario University Athletic Champions three years out of four and came in second at the National Rowing Championship. Lindsay was MVP in 2001.
After living in Victoria, B.C. for four years while her spouse and former Western teammate, Liam Parsons, trained with the National Rowing Team (winning a bronze medal with Western alum, Jon Beare at the Beijing Games) Lindsay returned to London in 2011, after finishing law school.
When she came home, she picked up where she left off, giving her time to Western rowing. "I can honestly say I get so much out of volunteering. I really try to advocate for our female rowers as they have been a powerhouse at Western for more than 30 years. When I look at the recent graduates or the current athletes (Jill Moffatt, for example, who is a 2021 Olympian) I am just so impressed with their speed, their skill, and most of all, their attitude. I encourage all alumni rowers to support the team as best they can, whether that's through volunteering or donor contributions."
Community and connection
Though six decades apart in their experiences, both Duncan and Lindsay felt a sense of community like no other. "The women and men train together and there is a mutual respect unlike any other team sport," says Lindsay. "You share your accomplishments and defeats together," says Duncan. It had its ups and downs, but you had each other, you had your team and your coach. That made it all worth it."
"It is unlike any other experience you will ever have", adds Lindsay.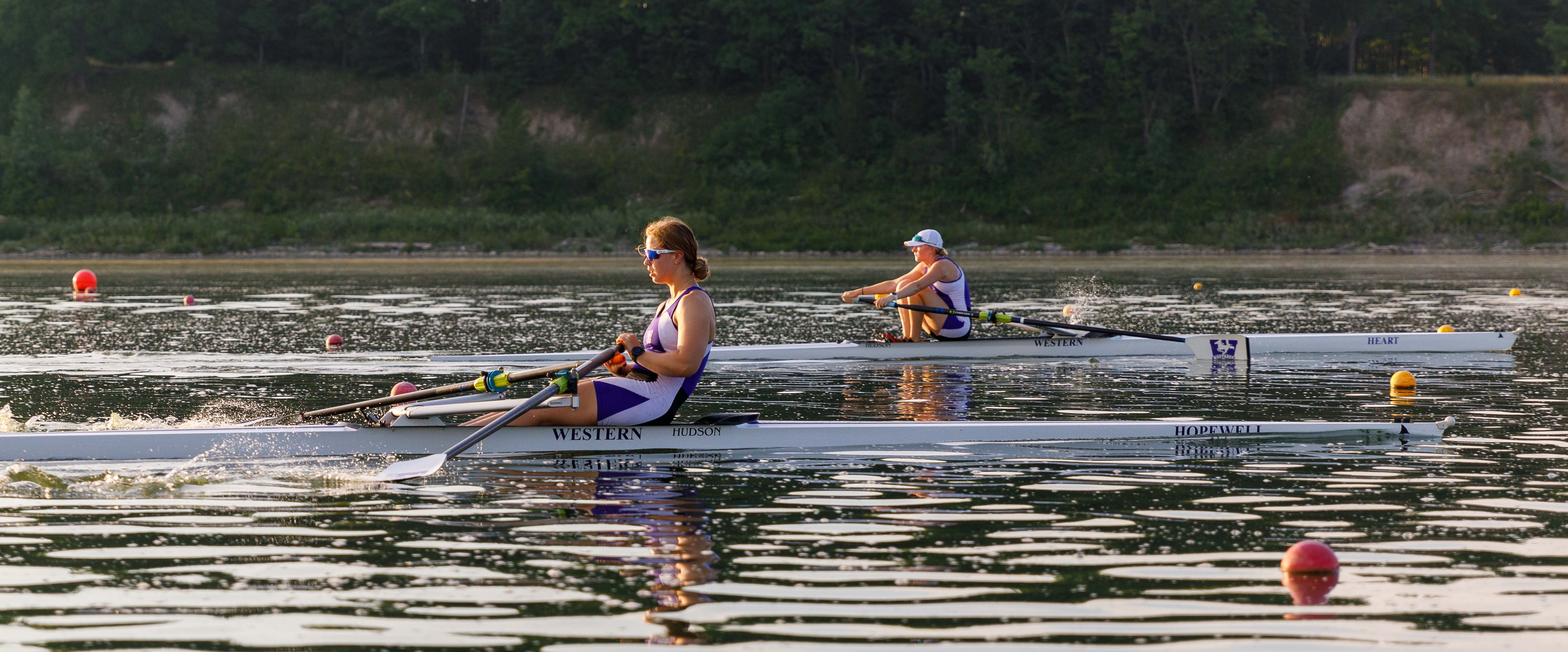 Recent Highlights:
The men's team finished second at the 2021 provincial championships
Western Rowing was represented at the Tokyo Olympics by Jennifer Martins and Jill Moffatt
The men's team finished second at the 2021 provincial championships
Western Rowing was represented at the Tokyo Olympics by Jennifer Martins and Jill Moffatt