Shining bright  
Vocalist Meghan Taylor is reaching for the stars. Donors can help students like Meghan hit a high note.
By Cassie Dowse

Before Meghan Taylor could say a single word, she was singing. Drawn to the beauty of tune as an infant, her aptitude for creating music was written in the stars, harmonizing natural-born talent with a passion for conveying emotion through the power of melody.

Though she grew up in a musical family, a love for music was not an expectation; yet it came to her like a beacon as she navigated her own path. "My grandparents were both music teachers, so it was a constant in my youth, but I really came to it on my own."

Despite recognizing Meghan's talent, private lessons and extensive training would be an expensive undertaking, particularly for a family on a budget. However, Meghan felt incredible support from her family to pursue music. "We didn't have a lot of money but because my grandparents understood the importance of musical education, they stepped in to help offer financial support."

Throughout schooling and training Meghan flourished, discovering talents for playing the clarinet, saxophone and piano. She enjoyed singing pop artist Adele's songs when she was younger but eventually found a connection with classical composers and opera singers, pushing her talents to new heights.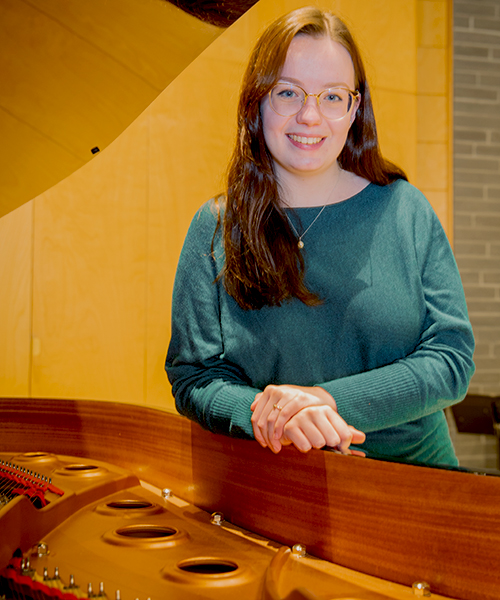 Meghan is in her third year at Western's Don Wright Faculty of Music where she is enrolled in a Bachelor of Music with Honours. The Bachelor of Music degree offers different streams for students to pursue their strengths and interests.

The Performance stream was a natural fit for Meghan. She spent the better part of her youth competing in (and winning) several music festivals across Lambton County, performing in talent shows and singing in choirs. She was meant for the stage.
For Meghan, performance is an art that can form a relationship with the audience, often creating an accompaniment to emotion. "Music is one of the rawest forms of human connection," she says. "Before I perform, I contemplate the underlying emotions that construct a particular piece and what I intend to convey. There could be someone in the audience hurting – someone who is happy – someone who is grieving. You have a job – a duty – to get on that stage, make them feel something and forge a connection."

Meghan uses the vulnerability of live performance as a tool, admitting that the nerves associated with being on stage never truly go away. She counts each performance as a personal achievement and an opportunity to offer the audience a respite from everyday life.

"Sometimes I find myself brought to tears because some songs are so heartfelt," she says. "That's also the thrill of it. When I step off stage, I feel euphoric – like I've just run a mile. I know that I've done something I thought I couldn't do."

It's also the community of faculty and students in the program that motivates Meghan daily. "When I'm on campus, I feel like I'm at home seeing my family," she says. "You see your peers studying music and putting on amazing performances. Everyone is dealing with the same struggles that you are, which is so validating. The community at Western is inspirational, and that's a huge reason why we do it."
A gift of hope
Before arriving at Western, the prospect of attending university was uncertain for Meghan.

"My family experienced financial struggles when I was growing up, so the possibility of attending university was so scary. It's emotionally taxing, especially when you have a dream," she says.

As Meghan entered her second year of undergraduate studies, she found herself worried about finances. Even with a part-time job, she was struggling to balance the prices of rent, groceries and tuition, and came close to losing her apartment when her student loan was unexpectedly cut.

Meghan was elated to receive the Sandor and Borballa Puskas Music Award for the 2021-22 academic year which covered the second installment of her tuition and allowed her to keep her apartment. This year Meghan was bestowed another award, the Albert Whitlow Choral Award established through the generosity of the London Music Scholarship Foundation.

Meghan is deeply grateful for donor support which has helped her to thrive academically and reach for the stars.

Students often need additional financial support, and right now there is still an opportunity before the year is through to support scholars like Meghan. You can help remove a student's financial barriers and anxiety and help them to follow their dreams.

"Saying 'thank you' isn't enough," says Meghan. "I hope donors know how meaningful student awards are for someone who grew up with almost nothing. To help take that burden off a student's shoulders is an incredible gift."