From Night to Day
An academic experience like no other inspired Dr. Gurjeet Rai, DDS '06 to donate to Western's Schulich School of Medicine & Dentistry.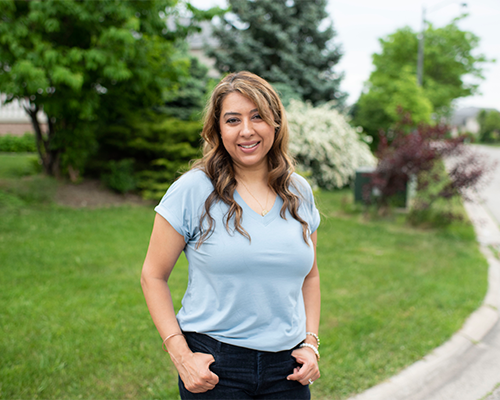 After an unforgettable experience as a Western dental student, Dr. Gurjeet Rai has committed to supporting the Schulich Excellence Fund in dentistry, in addition to generously donating in 2020 to Western's Schulich School of Medicine & Dentistry.
The journey to becoming a Doctor of Dental Surgery was not an easy path for Dr. Rai. Her life took her in multiple directions before she finally landed at Western University.
"It was quite a whirlwind! After completing my undergrad in Toronto, I went on to become a dental hygienist and then got married. Working as a hygienist, I recognized I wanted to become a dentist, but since I had missed all the Canadian deadlines for admissions, I ended up applying to American dental schools."
Dr. Rai sent off her applications but was surprised to find out she was pregnant. After a year of deferral to start her family, she moved to New York, her son just fourteen months old was staying at home with her husband in Toronto. "It was a difficult juggling act, coming home once a month and studying in between. Video calling became my best friend, but I was exhausted."
After finishing her first year in New York, Dr. Rai yearned to be closer to her son and husband. Knowing Western only accepted a certain number of transfer students each year, she was determined to get into the program, and in 2003, she did! "Western had a spot available and I got it! I felt so fortunate. Now I was able to see my son and husband every weekend. We could be a family again."
While looking back at her Western studies, Dr. Rai feels forever grateful. "It was literally a night and day experience from other institutions. I absolutely loved it!"
She was surprised by the professors and the curriculum. "The instructors really and truly cared. I felt like a person not a number, not a student - but a colleague. The professors wanted me to succeed, and I felt respected as a fellow professional right from the start."
Dr. Rai recognizes the pivotal role Western played in her career's success and notes the training gave her the confidence to use her skills right after graduation. Appreciating the full breadth of her clinical experience, she was able to work on complex cases, pediatric cases, orthodontics and more. "I felt supported by my professors every step of the way," she reflects.
Her positive experience also extended past the classroom to the dentistry community of students. "The class I graduated from is still connected to this day. We share a chat group, stay in touch constantly and even organized a 10-year reunion in 2016, where 80 per cent of the class attended." Sharing personal stories and professional expertise, Dr. Rai remembers the strong sense of unity in her class, which has withstood the test of time.
Looking back, she muses over a teachable moment she will never forget. "In my third year a professor had me redo a dental impression almost 30 times until I got it right. At the time I was frustrated for myself and my patient, who was very understanding, but I learned a very valuable skill that I have to this day. I can take a perfect mould with my eyes closed."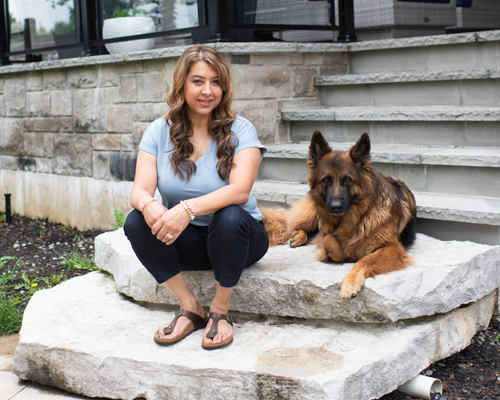 Dr. Gurjeet Rai on the steps of her Mississauga home where she lives with her husband, two sons, daughter and german shepherd, Storm.
The Mississauga dentist was so impressed with her experience at Western she felt it her duty to give back. In 2020, Dr. Rai donated to the Clinical Dentistry Endowment and has pledged a continual annual donation, over the next four years to the Schulich Excellence Fund for Dentistry.
Her generous commitment has provided opportunities to respond to emerging needs in the program including upgrades to the pediatric dental clinic, and the purchase of items to reduce dental fear and anxiety in children.
In her final year of the dental program at Western, Dr. Rai was pregnant with her second child who was born just after her graduation. "I have to laugh; I remember distinctly my classmates saying I had superpowers to get through school and pregnancy. Yes, it was a challenge, but I only look back at my Western experience with fondness. It's where I became a professional - not a number."